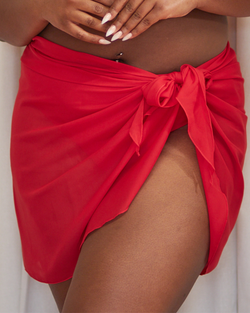 IBIZA CHIFFON SARONG - CHERRY RED
IBIZA CHIFFON SARONG -  CHERRY RED
Our Ibiza chiffon sarong is a timeless classic perfect for taking you from the pool to the restaurant. This cover-up is mid-length, lightweight, and flowy.
Available in Cherry Red
Product Features
Rounded hemline
100% chiffon
Model wears:
Reign Studio One-Size 
We worked hard to simplify our sizing system as much as possible, for an easy and straightforward shopping experience. Please do note that by no means does our simplified sizing system mean that our fit is to be questioned, the listed sizes have all been tried and tested by fuller bust women of different shapes and sizes. Our swimsuits are available in the following sizes (sizes below are reflective of UK sizes):
Our bottoms come in the following sizes:
NON BRITISH SIZE GUIDE 
If you are from anywhere outside of the UK please look at the below charts to convert your size to UK sizing to choose the best sizing for you.
STEP ONE
In the table below locate 
your back size and find your UK back size equivalent:
STEP TWO
In the table below locate your cup size and find your UK cup size equivalent: 
STEP THREE
Now you know your UK bra size, use the the table below to find out your Reign Studio size in our size chart:
For our Jummai Swimsuit please shop your dress size to get the best fit.
All our pieces are made of premium material that allow space for the garment to stretch. With that said feel free to size up or down where you think best. If you are still having trouble deciding, please reach out to one of our customer service representatives at info@reign-studio.com or via the chat button for further assistance!