CHILL WITH ME COZY HIGH WAISTED BIKER SHORTS
CHILL WITH ME COZY HIGH WAISTED BIKER SHORTS
Whether you are staying in or going out these biker shorts are a versatile day-to-day option.
Stay cute in your matching set around the house. Popping out? Be ready to go in less than no time by pairing with a baggy slogan tee and dad trainers for added edge. Dressing up? Pair with an oversized blazer and some shoe boots and a cute crossbody bag for drinks with the girls.
Product Features

Made from a cotton-modal blend fabric
High waisted design
Stretch fit
Double-lined
Reign branded elastic waistband
Size and Fit

Model wears:
Buttermilk - Reign Studio XL / Dress size UK 18-20
Black - Reign Studio L / Dress size 14-16
Lavender - Reign Studio L / Dress size 14-16
We worked hard to simplify our sizing system as much as possible, for an easy and straightforward shopping experience. Please do note that by no means does our simplified sizing system mean that our fit is to be questioned, the listed sizes have all been tried and tested by fuller bust women of different shapes and sizes. Our swimsuits are available in the following sizes (sizes below are reflective of UK sizes):
Our bottoms come in the following sizes:
NON BRITISH SIZE GUIDE 
If you are from anywhere outside of the UK please look at the below charts to convert your size to UK sizing to choose the best sizing for you.
STEP ONE
In the table below locate 
your back size and find your UK back size equivalent:
STEP TWO
In the table below locate your cup size and find your UK cup size equivalent: 
STEP THREE
Now you know your UK bra size, use the the table below to find out your Reign Studio size in our size chart:
All our pieces are made of premium material that allow space for the garment to stretch. With that said feel free to size up or down where you think best. If you are still having trouble deciding, please reach out to one of our customer service representatives at info@reign-studio.com or via the chat button for further assistance!
Customer Reviews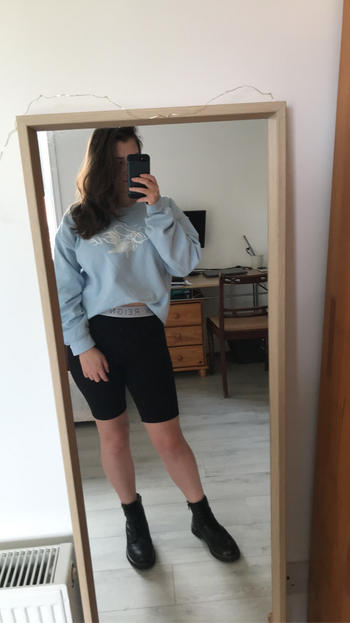 10/15/2020
I recommend this product
AMAZING
The biker shorts are super comfy, for lounging or not. I wore mine for ballet and they didnt slip down once! Will definitely be getting the rest of the lounge set! Highly recommend, cannot fault it!
Justine T.

United Kingdom
07/08/2021
I recommend this product
The sizing seems to be different for different sizes
Buttermilk & lavander are more generous than black would have got extra large if I was aware black was smaller than other colours Absolutely love how high they come up and the large band help them not roll down and is super comfortable apart from black which rolls down to sizing difference. Disappointed as I paid quite a bit more for the black set as isn't in sale.
Rhiannon P.

United Kingdom
01/05/2021
I recommend this product
Great Set!!
I bought this as a Christmas gift for a relative who is a curvy lady and she loved it. Its very pretty and soft to chill. Will be buying from you guys again!
Aisha T.

United Kingdom