Chill With Me Cozy Fuller Bust Wireless Bralette Top
Chill With Me Cozy

 

Fuller Bust

 Wireless 

Bralette Top
Stay comfy with our brand new F+ approved wireless bralettes and matching bottoms. 
Our Bralette top features a curve-enhancing elasticated underbust band and popular athletic shape this bralette is made with love for your comfort.
Available in Grey Marl Baby Pink, Black, Buttermilk, and Lavendar our matching combo will be your new obsession.
Bralette Top Product Features:
Made from a cotton-modal blend fabric
No cups, or padding
Unlined
Racerback styling
Reign branded supportive elastic underbust band
Size and Fit
Model wears:
Grey Marl - Reign Studio L / Bra size 38G / Dress size 18
Baby Pink - Reign Studio L / Bra size 38G / Dress size 18
Buttermilk - Reign Studio L / Bra size 38G / Dress size 18
Black - Reign Studio L / Bra size 38G / Dress size 18
Black - Reign Studio M / Bra size 36F / Dress size 14/16
Lavender - Reign Studio M / Bra size 36F / Dress size 14/16
We worked hard to simplify our sizing system as much as possible, for an easy and straightforward shopping experience. Please do note that by no means does our simplified sizing system mean that our fit is to be questioned, the listed sizes have all been tried and tested by fuller bust women of different shapes and sizes. Our swimsuits are available in the following sizes (sizes below are reflective of UK sizes):
Our bottoms come in the following sizes:
NON BRITISH SIZE GUIDE 
If you are from anywhere outside of the UK please look at the below charts to convert your size to UK sizing to choose the best sizing for you.
STEP ONE
In the table below locate 
your back size and find your UK back size equivalent:
STEP TWO
In the table below locate your cup size and find your UK cup size equivalent: 
STEP THREE
Now you know your UK bra size, use the the table below to find out your Reign Studio size in our size chart:
All our pieces are made of premium material that allow space for the garment to stretch. With that said feel free to size up or down where you think best. If you are still having trouble deciding, please reach out to one of our customer service representatives at info@reign-studio.com or via the chat button for further assistance!
Customer Reviews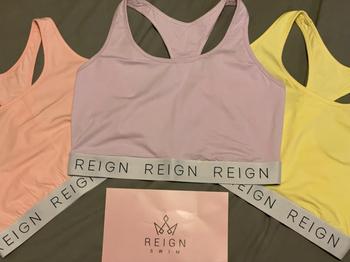 12/11/2020
I recommend this product
I absolutely love these bralettes!!
These are the best bralettes I've ever worn! Super soft material and the colour options are gorgeous! It's sooooo comfortable, you don't even notice you have it on it's that comfy! What I love about these is they gives my boobs a lovely smooth round shape! I have 5 now and I can't wait to buy more! :)
Angela C.

United Kingdom
12/01/2020
I recommend this product
FINALLY!!
Finally a comfortable non wired bralette that actually fits. I can't tell you how much money I have wasted looking for lounge wear that fits my 38 HH natural ******* comfortably. I can honestly say I won't looking any further, there's no horrid over spill or rolling up. Its comfort from here on . And very quick delivery as an added bonus, will definitely be ordering again.
Vikki .

United Kingdom
02/19/2021
I recommend this product
Fabulous! Band was just wider than expected
I would definitely recommend this bra, its comfy and quite supportive for a bralette, you just might need it taken in if your back is small like mine. I brought a small since I'm a 30G and it looked like the small fit the model with 30H boobs, but the band was actually far too wide for me. I've had it taken in about 5cm and it fits now, so I'm happy. I would love to see an XS in the future though, and in the swimmers too since I'd love to buy them someday !
Gabrielle

Australia
02/08/2021
I recommend this product
Total comfort for the girls!
Finally my quest for finding a proper bralette to fit my 36HH girls has ended! This bralette fits perfectly, no squished boobs, no 4-boobs, no side boobs! Comfy wide underband, lovely racer back and just pure comfort without my boobs dangling down by my belly button. The other half approved too it's that good that I'm going to order myself another one (but with the adjustable straps) next month! Well done, and thank you so much for making us big busted girls feel included and supported! Xx
Natasha G.

United Kingdom
02/03/2021
I recommend this product
Super comfy and almost perfect
This is my second one and I love it, especially for sleeping in. My only tweak would be to make another smaller band size option as after a few hours or wear the band is less firm as its for a 30 not a 28. Please don't reduce the fabric too though, its just the right amount to keep my JJ cups covered!
Roz E.

United Kingdom